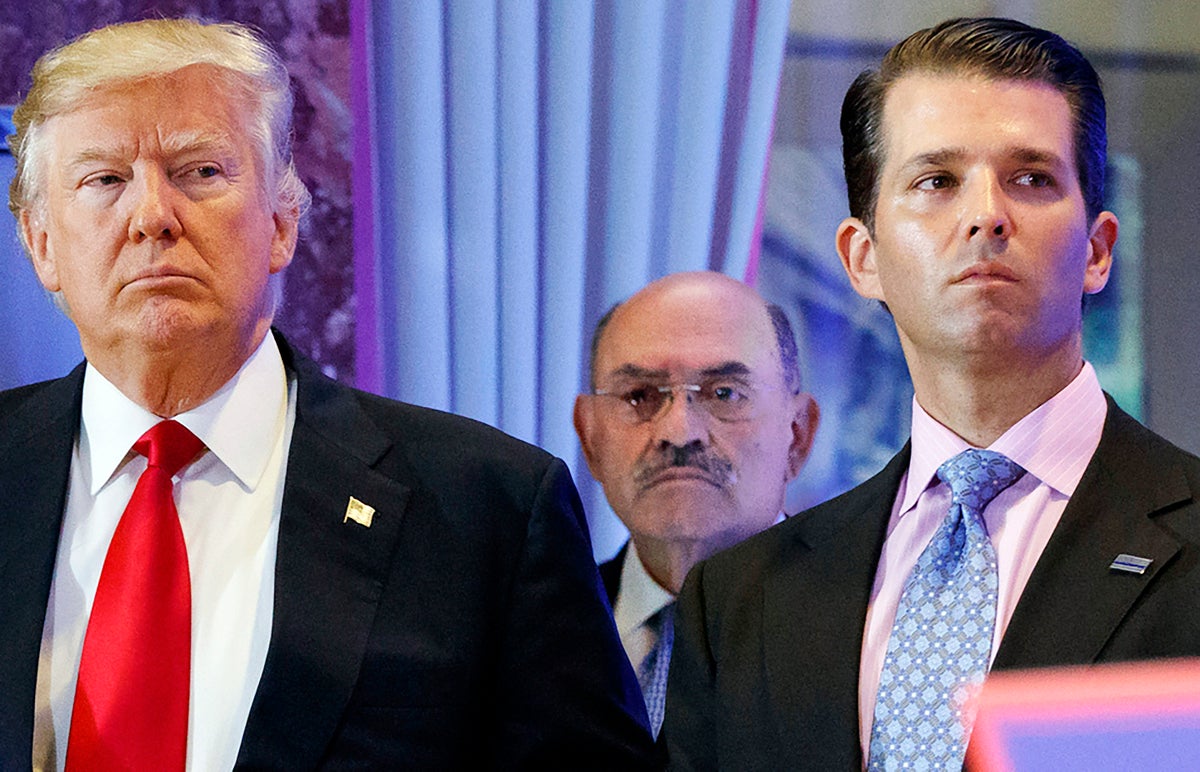 Donald Trump Jr called his father a "mortician" in an apparent slip of tongue while attempting to ridicule Ron DeSantis's glitch-ridden 2024 presidential campaign on Twitter.
Former president Donald Trump's eldest son was mocking Mr DeSantis for his troubled campaign launch on Twitter Spaces, which was marred by technical glitches.
He played an audio clip of what he claimed was "8 minutes of silence" during Mr DeSantis's campaign launch and echoed his father's description of it as a "DeSaster".
"It was a hashtag disaster. It took a long time for Elon Musk to barely figure out how and what was going on. It took two charismatic billionaires like Elon Musk and David Sacks to carry DeSantis through this where he basically read an op-ed about what he is gonna do," he said.
However, while trying to boost his father's candidacy, he unintentionally referred to Mr Trump as a mortician – an undertaker whose job is to prepare dead bodies and organize funerals.
"Trump has the charisma of a mortician… And the energy that makes Jeb Bush look an Olympian," he said, referring to the doomed 2016 Republican campaign of Jeb Bush, son of former president George HW Bush.
Donald Trump Jr continued his rant without realizing his error.
He went on to mock the Florida governor, saying the "failed" launch was indicative of future failures. He said Mr DeSantis would regret running against his father.
The clip of his gaffe went viral, receiving over a million views and prompting a trolling spree.
"Someone needs to tell him he got it all wrong if he's trying to hype his father," a Twitter user said.
Another user Allene Lewis quipped: "This is rich! For the first time in Donny He's life he spoke truth about daddy.
"It was that extra bump that Jr did right before recording this," one said.
"There's no F******g way you make a mistake like this unless your subconscious WANTS you to make a mistake like this," another said.
Ron DeSantis's hotly-anticipated 2024 campaign launch fell flat on Wednesday night when it was marred by technical glitches. The Florida governor, 44, chose to announce his presidential run in an unconventional way – in a Twitter Spaces event with Elon Musk and David Sacks.
But, the event got off to a rocky start when it crashed several times and the sound repeatedly dropped out.

Kaynak : https://www.independent.co.uk/news/world/americas/us-politics/donald-trump-jr-mortician-ron-desantis-campaign-b2346196.html