Brian Laundrie's mother offered him "a shovel and garbage bags" if he needed to dispose of a body, according to a "burn after reading" letter, court documents show.
The parents of Laundrie's fiancee Gabby Petito have been given the letter after a Florida judge denied a request from his parents to withhold it.
The Petitos are suing the Laundries for emotional distress following their daughter's death while the pair were travelling together.
The letter was released after arguments by lawyers as to whether it is relevant to the lawsuit, which is set to be heard in May next year.
Gabby's body was found at Wyoming's Bridger-Teton National Forest in September 2021 and her death was ruled a homicide by manual strangulation.
Laundrie took his own life the following month, but the FBI said that he had written in a notebook that he was responsible for her death.
The "burn after reading" letter was found in his backpack.
The Petito family's lawyer shared a copy of the letter, written by Roberta Laundrie, with NBC News
'If you need to dispose of a body, I will show up with a shovel and garbage bags'
She had said: "I just want you to remember I will always love you, and I know you will always love me.
"You are my boy.
"Nothing can make me stop loving you, nothing will or could ever divide us no matter what we do, or where we go or what we say – we will always love each other.
"If you're in jail, I will bake a cake with a file in it.
"If you need to dispose of a body, I will show up with a shovel and garbage bags.
"If you fly to the moon, I will be watching the skies for your re-entry.
"If you say you hate my guts, I'll get new guts," the letter continued.
'Nothing can separate us… not even sin'
She included a Bible verse from the book of Romans and ended the letter by saying: "(Nothing can separate us: not hatred, not hunger, not homelessness, not threats, not even sin, not the thinkable or unthinkable can get between us.) ~ Not time. Not miles and miles and miles."
In an affidavit, Mrs Laundrie said that she had written the letter to her son at a time when their relationship was "strained", giving it to him before he and Gabby left for their travels.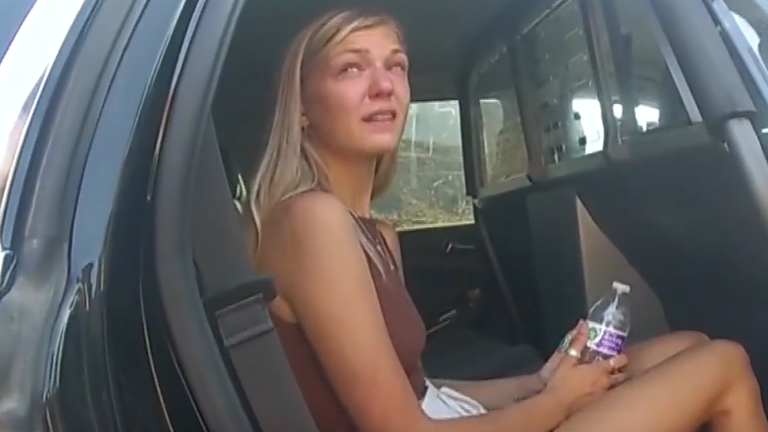 "I was trying to connect with Brian and repair our relationship as he was planning to leave home – and I had hoped this letter would remind him how much I loved him," she wrote.
"While I used words that seem to have a connection with Brian's actions and his taking of Gabby's life, I never would have fathomed the events that unfolded months later between Brian and Gabby would reflect the words in my letter."
Letter 'in no way related to Gabby'
In a statement through her family's lawyer, Mrs Laundrie added: "The letter to Brian was written prior to Gabby and Brian leaving my home for their trip.
"I truly loved my son, and simply wanted to convey to him how much he meant to me and how much I loved him. I am sure people use phrases all the time to express to their loved ones the depths of their love.
"Although I chose words that I thought would be impactful with Brian given our relationship, the letter was in no way related to Gabby."

Kaynak : https://news.sky.com/story/gabby-petito-case-brian-laundries-mother-offered-him-a-shovel-and-garbage-bags-in-burn-after-reading-letter-12889608