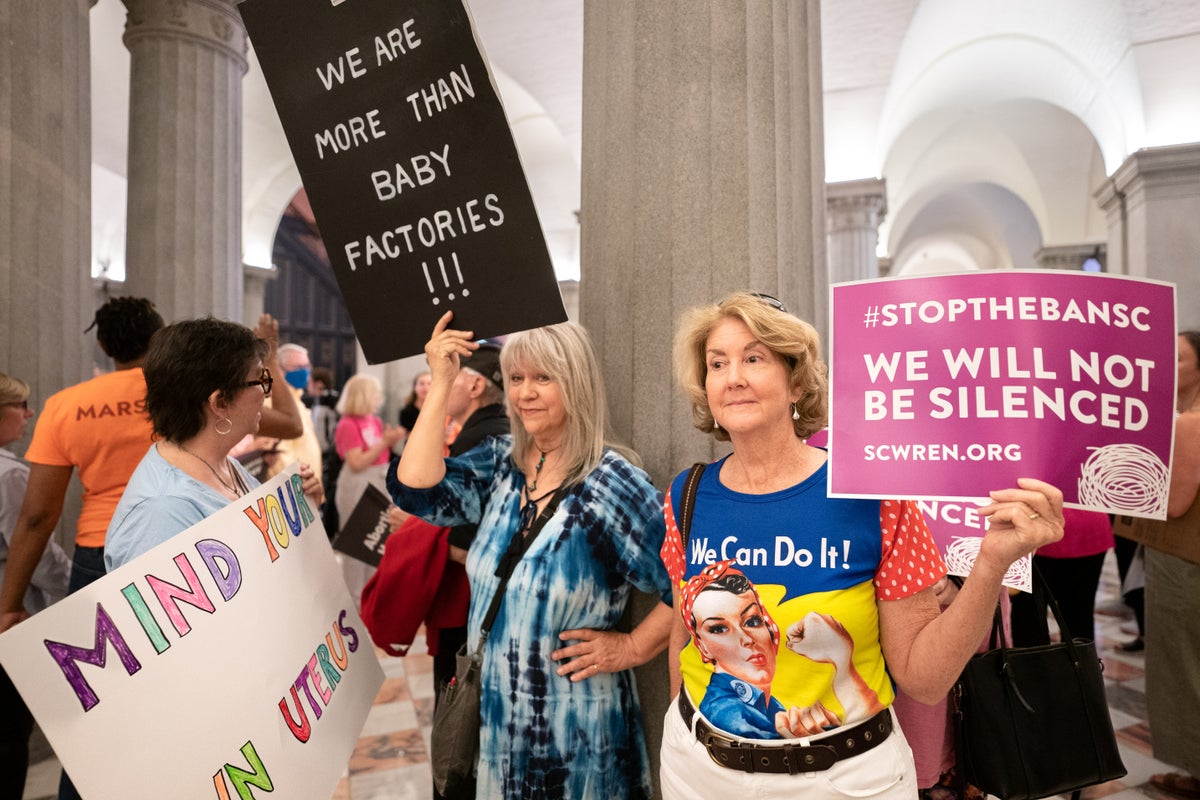 One day after the state's Republican governor signed the ban into law, a judge in South Carolina has blocked a measure outlawing abortion at roughly six weeks of pregnancy.
Abortion rights advocates and civil rights groups filed a lawsuit moments after Governor Henry McMaster announced his signature on the bill.
South Carolina's latest law – which could extend the sweeping restrictions and outright bans on abortion care across the entire US South, and threaten legal access to care for millions of Americans – is nearly identical to a bill that was blocked by the state Supreme Court last year.
The decision on Friday means the state's abortion regulations revert to previous rules that allow for abortion care up until about 20 weeks after fertilization.
"The status quo should be maintained until the Supreme Court reviews its decision," Judge Clifton Newman said. "It's going to end up there."
His decision on 26 May comes just four months after the state's Supreme Court permanently struck down a similar measure, which the court determined ran afoul of the state's constitution.
Restrictions on abortion care "must be reasonable and it must be meaningful in that the time frames imposed must afford a woman sufficient time to determine she is pregnant and to take reasonable steps to terminate that pregnancy," Justice Kaye Hearn wrote in the majority opinion on 5 January.
More than a dozen states, mostly in the South, have outlawed most abortions or severely restricted access within the year after the Supreme Court's ruling in Dobbs v Jackson Women's Health Organization, which revoked a constitutional right to abortion care that was affirmed by the decision in Roe v Wade for nearly half a century.
South Carolina remains the only state south of Virginia without severe restrictions or outright bans on abortion care past the 12th week of pregnancy. Most of those states have moved to ban abortion in nearly all cases with limited or no exceptions.
Last year, lawmakers in South Carolina failed to adopt an anti-abortion law that would ban nearly all abortions in the state, but a six-week ban took effect shortly after the Supreme Court's ruling on 24 June.
In a statement following the governor's signature on the latest six-week ban, White House press secretary Karine Jean-Pierre lambasted Republican lawmakers who are "dismantling women's rights across the South, putting their health and lives in jeopardy. "
South Carolina's ban will cut off access to abortion for women in the state and those across the entire region for whom South Carolina is their closest option for care," she added.

Kaynak : https://www.independent.co.uk/news/world/americas/us-politics/south-carolina-abortion-law-supreme-court-b2346631.html