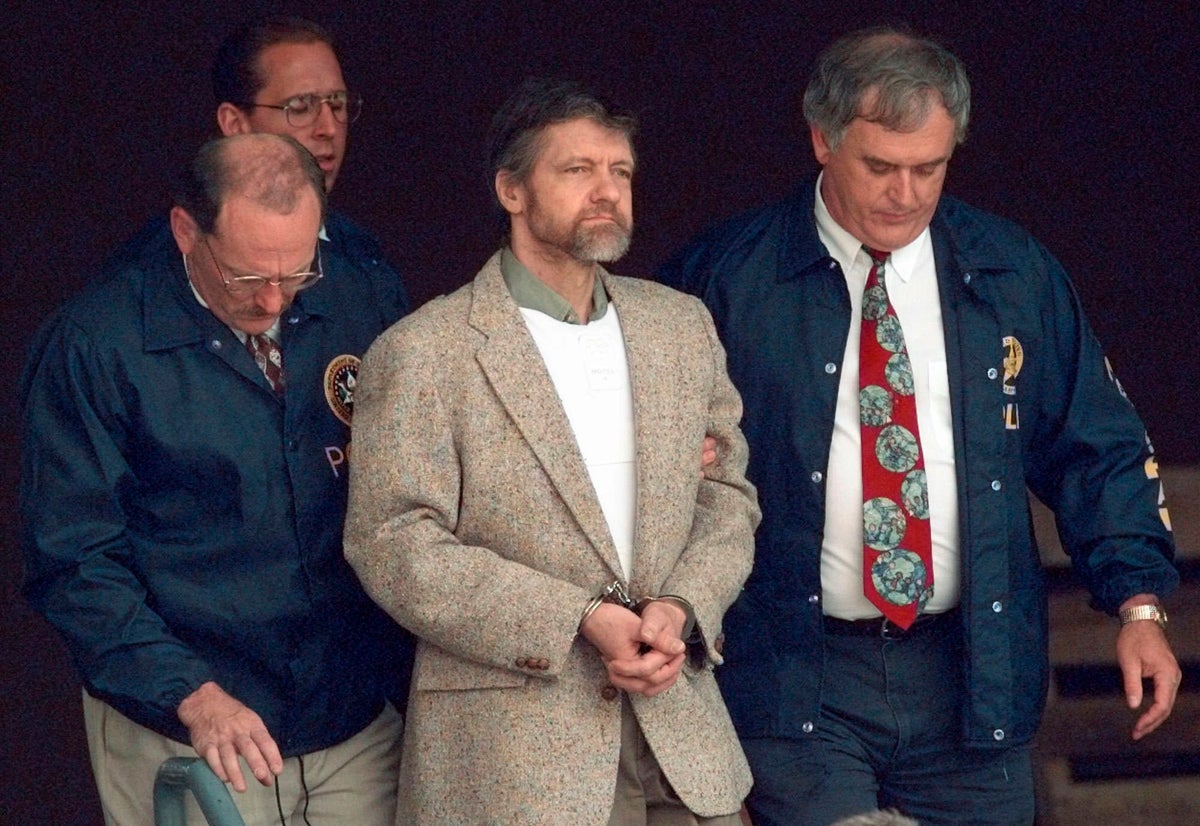 Theodore "Ted" Kaczynski, known as the "Unabomber," has died in federal prison aged 81, a spokesperson for the Bureau of Prisons told The Associated Press.
Kaczynski was found dead at around 8am in a federal prison in North Carolina. The cause of death was not immediately known.
He was serving life without the possibility of parole following his 1996 arrest at the primitive cabin where he was living in western Montana.
Kaczynski pleaded guilty to setting 16 explosions that killed three people and injured 23 others, maiming some permanently, in various parts of the US for 17 years between 1978 and 1995.
He had been moved to the federal prison medical facility in 2021 after spending more than two decades in a federal Supermax prison in Colorado for the series of bombings that targeted scientists.
The deadly bombs were homemade and sent through the mail — some targeted airlines by including altitude sensors to trigger an explosion mid-flight.
An early altitude-triggered bomb went off as planned on an American Airlines flight in 1979 with a dozen people suffering from smoke inhalation as a result.
One threat to blow up a plane out of Los Angeles in 1995 over the July 4th holiday weekend almost completely shut down air travel on the west coast. He later claimed it was a prank.
Kaczynski was nicknamed the "Unabomber" because his early targets appeared to consist of universities and airlines.
Those killed by him were computer rental store owner Hugh Scrutton, advertising executive Thomas Mosser and timber industry lobbyist Gilbert Murray. California geneticist Charles Epstein and Yale University computer expert David Gelernter were maimed by bombs two days apart in June 1993.
A Harvard-trained mathematician, he railed against advanced technology. His 35,000-word manifesto, Industrial Societ and Its Future, was published by The Washington Post and The New York Times in September 1995.
Its publication was backed by federal agencies as he had said he would desist from his campaign of terrorism if it received a national audience.
His writing was recognised by his brother David Kaczynski and his sister-in-law, Linda Patrik, who turned him in to the FBI, ending one of the longest and costliest manhunts in US history.
When authorities closed in on Kaczynski at his cabin outside Lincoln, Montana, they found it filled with journals, a coded diary, explosive ingredients, and two completed bombs.
In prison, he was diagnosed as a paranoid schizophrenic whose delusions were "mostly persecutory in nature" and revolved around being "maligned and harassed by family members and modern society".
Kaczynski hated the idea of being seen as mentally ill and pleaded guilty to avoid his lawyers presenting an insanity defence.
With reporting from the Associated Press

Kaynak : https://www.independent.co.uk/news/world/americas/crime/unabomber-dead-ted-kaczynski-prison-b2355245.html