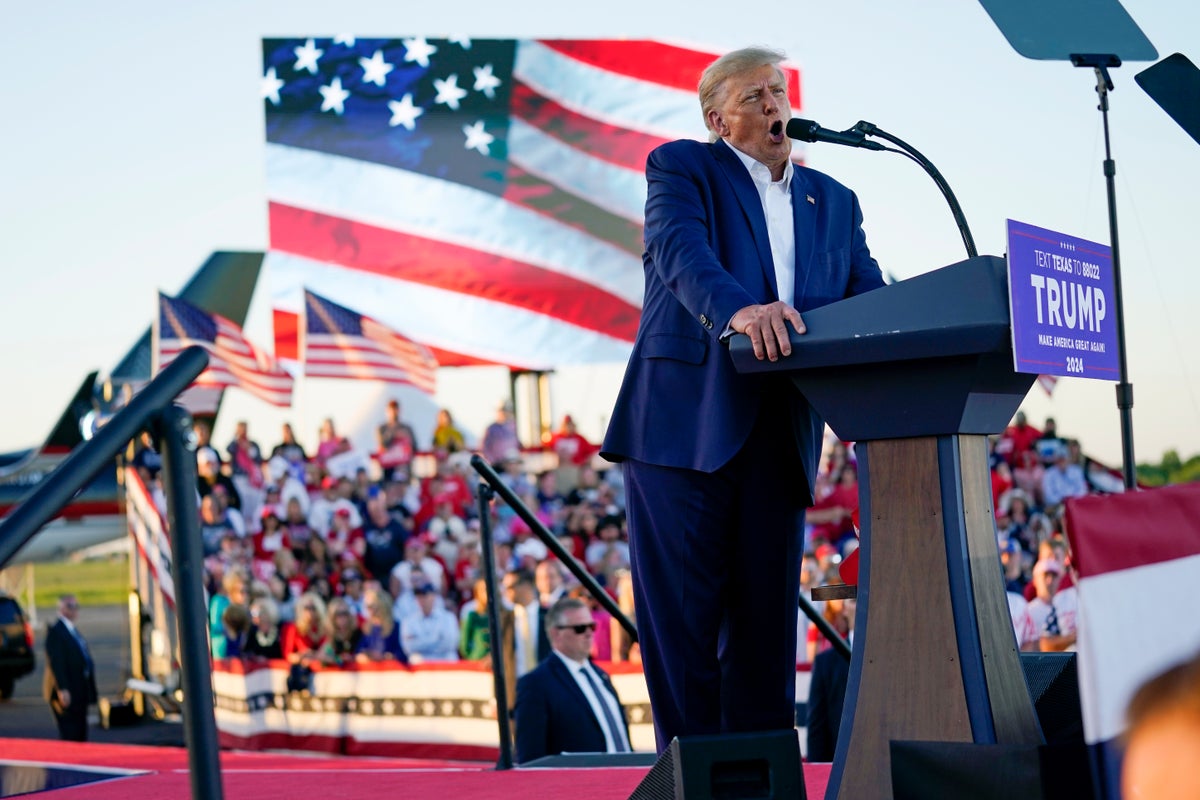 Donald Trump made a series of Truth Social posts in the early hours of Monday morning – hours before the grand jury investigating the hush money payments to Stormy Daniels is poised to next appear in Manhattan.
In a sign the former president could be losing sleep over his potential looming criminal indictment, he was furiously sharing posts until 3.30am ET complaining about everything from Manhattan District Attorney Alvin Bragg's probe to mail-in ballots and his political rival Ron DeSantis.
In one post, Mr Trump accused the Biden administration of being involved in the investigation into the payments to adult film star Ms Daniels days before the 2016 presidential election.
"Remember, the DOJ is running the local Manhattan D.A.'s prosecution, they just don't want their "fingerprints" on it. They placed a TOP person in the Office!" he claimed.
In another, he repeated his derogatory nickname for Ms Daniels – and also managed to spell her name wrong.
"I won a Federal lawsuit for almost $500,000 against Stormy "Horseface" Danials. Never had an "affair" with her, and would never have wanted to!" he claimed.
Mr Trump also made a return to one of his favourite, longrunning gripes – mail-in ballots – claiming that they are a "MASSIVE FRAUD".
When sharing that post, the former president appeared to forget his comments earlier this month where he performed a sudden backflip over the voting method and urged his followers to get on board.
Speaking at the Conservative Political Action Conference (CPAC) in early March, Mr Trump said it was time to "change our thinking" on mail-in voting – claiming they have "no choice" but to try to beat "Democrats at their own game".
In a final Truth Social post at around 3.30am ET on Monday, Mr Trump shared a clip from a Fox News interview with Steve Hilton in which the political commentator gave Mr DeSantis a new nickname.
"Ron Dukakis…," Mr Trump wrote – a reference to Republican Michael Dukakis.
The name marks just the latest nickname tried and tested by Mr Trump as he continues to take aim at the Florida governor – a onetime ally believed to be his biggest Republican competition in the 2024 race.
Mr Trump's latest Truth Social rants come as the Manhattan grand jury could next meet as soon as Monday in the hush money case.
Manhattan prosecutors have been investigating whether Mr Trump falsified the Trump Organization's business records when Mr Trump's former lawyer and "fixer" Michael Cohen made a payment of $130,0000 to Ms Daniels days before the 2016 election.
Prosecutors claim that the money was used to silence Ms Daniels about an alleged affair she had with Mr Trump.
Mr Trump has long denied having an affair with the adult film star.
Mr Trump's former fixer and personal attorney Cohen was convicted of tax evasion, lying to Congress and campaign finance violations related to the payments to Ms Daniels. He was sentenced to three years in prison.
The former president claimed he was going to be arrested last Tuesday (21 March) in the case and called on his supporters to protest.
But Tuesday came and went with no indictment and the grand jury did not hear the case on 22 and 23 March as had been expected, pushing back any potential indictment.
Now, Monday (27 March) is the next time the panel could hear the case as, typically, it has been meeting on Mondays, Wednesdays and Thursdays.
At least one more witness is expected to appear and Cohen could also be called back to the stand as a rebuttal witness before the grand jury will vote on whether or not Mr Trump will make history as the only former or current US president to ever be indicted on criminal charges.

Kaynak : https://www.independent.co.uk/news/world/americas/us-politics/trump-truth-social-posts-grand-jury-b2308632.html