Orlando Bloom has praised the "incredible stoic nature" of the Ukrainian people as he met with President Volodymyr Zelenskyy and encouraged him to "go win" the war.
A number of high-profile actors and musicians have travelled to Ukraine since the war with Russia erupted in February 2022.
The 46-year-old British actor is the latest, who visited a children's centre in Kyiv on Sunday for his work as a goodwill ambassador for the United Nations children's organisation UNICEF.
The Pirates Of The Caribbean star also met with Ukrainian President Volodymyr Zelenskyy, and told him it was "remarkable to see how you are holding this country" and that it was a "real honour" to meet him.
Ukraine war latest: Putin 'not ready to negotiate and seeks complete victory'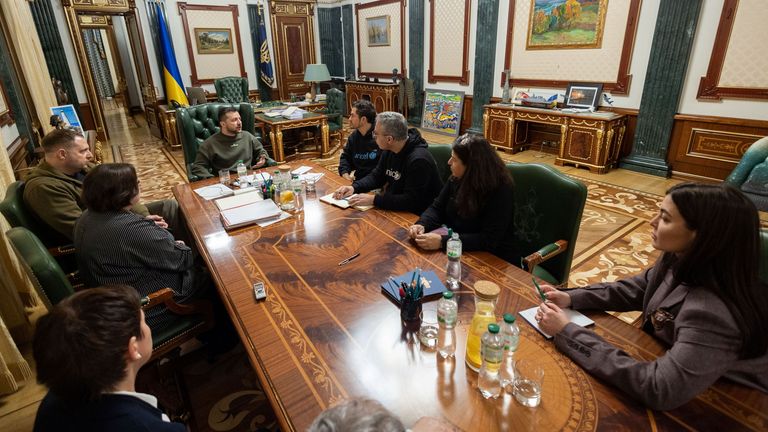 "[It is] so encouraging in so many ways to see just the remarkably stoic nature of the people of Ukraine. And of course, your messaging that I think is reflected in their courage, and in their determination and in their perseverance and resilience," he said.
"To see the children, to see in their eyes, it's palpable the anxiety and yet, the strength of the Ukrainian people is something that is really awe-inspiring in truth and, of course, your messaging is the reason for that."
Mr Zelenskyy told the 46-year-old actor that "we have a good country, we hold each other", before adding that his visit to the nation "sends a big message".
Bloom, who last visited Ukraine in 2016, spoke of meeting a family of five who took four more children into their home and said "hopefully that is the kind of future for children in this country" instead of "institutionalised" methods of raising children.
He also reassured Mr Zelenskyy that UNICEF is taking the issue of missing children "incredibly seriously, just as the rest of the world is watching".
The actor, who has been a member of a Buddhist organisation since he was 16, also read an excerpt of a message of encouragement from his Japanese mentor who wrote to the youth of the UK in 1994.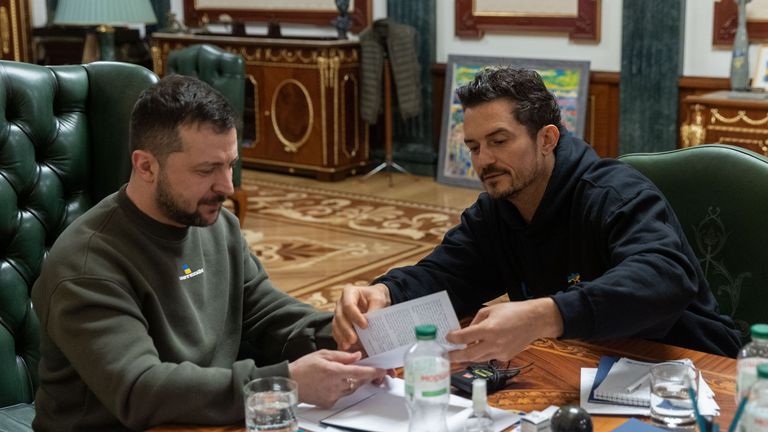 "I wanted to read it because I feel it's so important and I had it written for you as well to read along," he said.
After reading the message, he said: "You have a strong heart and thank you for everything you do. I used to read this every day… I used to read it when I was a child just to try and give myself the courage."
Towards the end of the meeting, Bloom said he has a video of his mother singing the Ukrainian national anthem in English and she said if he met Mr Zelenskyy, he should tell him to win.
"Go win" he said, "Slava Ukraine".
Bloom shared a clip of the meeting on Instagram, writing: "The war is destroying the childhood of Ukrainian children.
"Thousands of schools in Ukraine have been damaged or completely destroyed. Almost 2.7 million Ukrainian schoolchildren are forced to study online or in a mixed format. About 1.5 million Ukrainian boys and girls are at risk of developing depression, anxiety and other psychological problems.
Read more:
US reacts cautiously as Russia agrees deal to move nuclear weapons to Belarus
Forthcoming 'fighting season' could be final chapter in conflict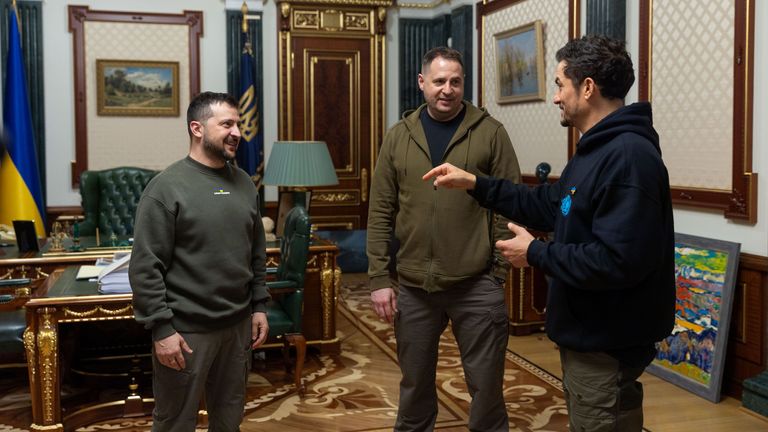 "We all know what this aggression has brought and how full-scale the world's efforts must be to stop it, to rebuild Ukraine after the war.
"During the meeting, we discussed humanitarian aid projects, issues of reconstruction focused specifically on the interests of children. @unicef and our teams will work in several directions, bring victory closer and return a happy childhood to Ukrainian children."
As of 26 March, at least 465 children have been killed in the 13-month-long war Russia waged against its neighbour, according to Ukraine's Prosecutor General's Office.
In his nightly address after meeting Bloom, the Ukraine leader said: "He knows what this aggression has brought, how full-scale the world's efforts must be to stop it, to restore Ukraine after the war."

Kaynak : https://news.sky.com/story/ukraine-war-orlando-bloom-tells-president-zelenskyy-strength-of-ukrainian-people-is-awe-inspiring-12843501